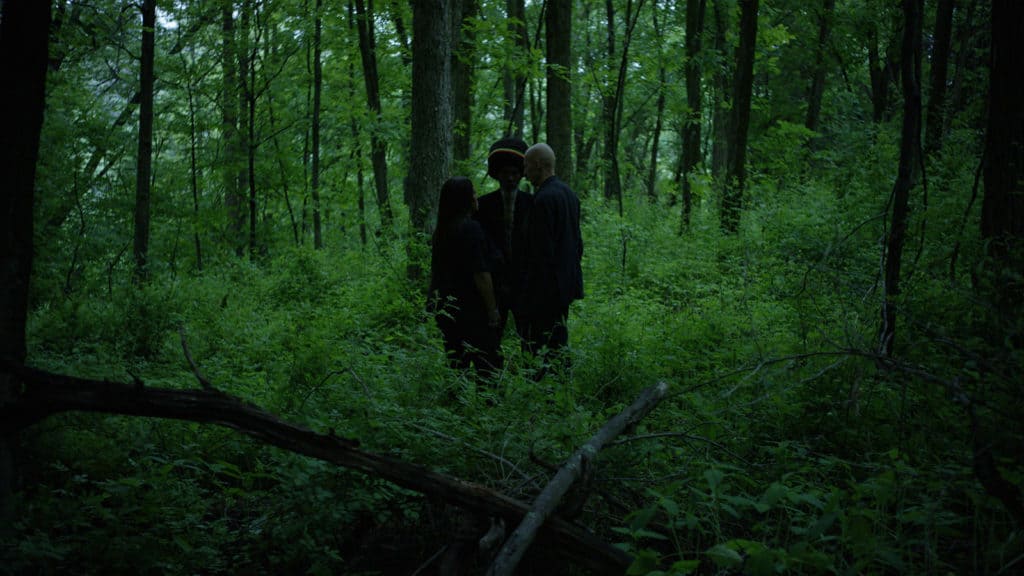 The lineup for the 26th edition of the Chicago Underground Film Festival (CUFF) has revealed its full lineup, which will be taking place from June 5 – 9. Adam Khalil and Bayley Sweitzer's Empty Metal has been chosen at the opening night selection, with Nicole Brending's Dollhouse closing the fest.
Take a look below for the full list of features and be sure to click over to cuff.org for more information.
Opening Night Selection
EMPTY METAL Midwest Premiere
Directors: Adam Khalil, Bayley Sweitzer
Country: USA, Running Time: 85 min
A punk band is ensnared in a murder plot by an indigenous family whose mother communicates telepathically with her meditation companions, a Rastafarian hacker and a Buddhist whose son is a member of a secret militia. While this motley crew goes about their business, the drones fly overhead, seeing all.
Closing Night Selection
DOLLHOUSE: THE ERADICATION OF FEMALE SUBJECTIVITY FROM AMERICAN POPULAR CULTURE
Director: Nicole Brending
Country: USA, Running Time: 91 min
The disturbingly entertaining feature debut of director Nicole Brending, DOLLHOUSE: THE ERADICATION OF FEMALE SUBJECTIVITY FROM AMERICAN POPULAR CULTURE charts the rise and fall of fictional child pop star Junie Spoons as her life story (and the ensuing disasters) unfold, as told by those who knew her. Set in the bubble gum pop world of Britney Spears and Lindsay Lohan and told in the style of VH1's Behind The Music, Junie's story tops itself one scandal after another as she rockets to international stardom and then faces the aftermath of life under scrutiny.
36 HOURS Midwest Premiere
Director: Adam Sekuler
Country: USA, Running Time: 77 min
Angelle is in labor. She rides the waves of emotion and physical pain without pharmaceutical intervention as she, along with her partner Nathan and her mother, try to follow a natural birth plan. As her contractions get heavier, though, Angelle gets caught in the undertow of time. Her birth is taking much longer than expected. With her preconceived notions of birth shattered, Angelle must make difficult decisions, bringing into focus the true work of motherhood and womanhood. Weaving together immersive verité filmmaking and expressionistically captured movement sequences is a tour de feminine force.
A BRIGHT LIGHT – KAREN AND THE PROCESS Midwest Premiere
Director: Emmanuelle Antille
Country: Switzerland, Running Time: 94 min
A music documentary, a cinematographic essay that travels across the United States in Karen Dalton's footsteps. In search of one of the 1960's most astonishing voices, worshiped by her peers, but unknown to the general public, the film also questions the process of creation, its frantic and mesmerizing paths.
CHAINED FOR LIFE Midwest Premiere
Director: Aaron Schimberg
Country: USA, Running Time: 91 min
A beautiful actress struggles to connect with her disfigured co-star on the set of a European auteur's English-language debut.
DESOLATION CENTER
Director: Stuart Swezey
Country: USA, Running Time: 93 min
The untold story of a series of Reagan-era anarchic punk rock desert happenings that still reverberate throughout our culture, DESOLATION CENTER transported punk and industrial music fans in rented school buses into the far reaches of the Mojave Desert for now-legendary performances. DESOLATION CENTER is a feature documentary about these guerilla music and performance events staged in remote and unusual locations. Directed by the principal organizer of the events, Stuart Swezey, DESOLATION CENTER is the true story of how the risky, and at times even reckless, actions of a few outsiders can unintentionally lead to seismic cultural shifts.
THE FOAMING NODE North American Premiere
Director: Ian Haig
Country: USA, Running Time: 65 min
THE FOAMING NODE tells the story of the last remaining observers who were members of a cult of sorts who followed the transmissions and evacuations of the mysterious Foaming Node, whose main project and mission was the distribution of the human body. This is their story.
LAST NIGHT I SAW YOU SMILING Midwest Premiere
Director: Kavich Neang
Countries Cambodia/France, Running Time: 78 min
Since 1963, Phnom Penh's iconic housing block, the "White Building", witnessed a tremendous set of events: the young nation's "Golden Age"; a traumatic breakdown under a radical regime; decades of cultural revival centered within its walls; and, the rapid pace of capitalist development that would ultimately lead to its demise. Kavich Neang, born here in 1987, is one of hundreds of residents who must leave immediately. He picks up a camera to record. When demolition comes, it's all a memory.
THE LAST OF THE MANSON GIRLS Midwest Premiere
Director: Lonnie Martin
Country: USA, Running Time: 73 min
Convinced there's more to the Manson murders than meets the public eye, counterculture journalist Paul Krassner embarks on an LSD tinged investigation of the last of Manson's disciples: Sandra Good, Brenda McCann, and Lynette "Squeaky" Fromme.
THE PLAGIARISTS Midwest Premiere
Director: Peter Parlow
Country: USA, Running Time: 76 min
THE PLAGIARISTS follows a young novelist and her cinematographer boyfriend, who are caught in a snowstorm on their way to visit a friend in upstate New York. Needing shelter, a man puts them up for the night. However, months later a discovery puts the evening into a different context, bringing resentments to the surface.
THE WASHING SOCIETY Midwest Premiere
Directors: Lynne Sachs, Lizzie Olesker
Country: USA, Running Time: 44 min
THE WASHING SOCIETY brings us into New York City laundromats and the experiences of the people who work there. A cinematic collage of narrative, experimental and documentary elements creates a dream-like, yet hyper-real portrayal of a day in the life of a laundry worker, both past and present.
WHERE DOES A BODY END? U.S. Premiere
Director: Marco Porsia
Country: USA, Running Time: 121 min
An intimate portrait of the Swans, from their roots as a post-punk band through their ill-fated bid at mainstream in the 90s indie-rock goldrush, through breakups and chaos to their current status as one of the most accomplished bands in the world.