Release Date: June 28, 2017
Director: 
Edgar Wright

MPAA Rating: R
Runtime: 113 Minutes
It's been four long years since Edgar Wright painted the screen with one of his funny, stylish and wildly entertaining pieces of cinema, his last being The World's End (unless you want to count Ant-Man), and Baby Driver proves to be a welcome addition to his already impressive catalogue.
Fueled by a never-ending, always-fresh soundtrack, this kinetic action-musical is undoubtedly one of the coolest movies you'll see this year and is one that demands to be seen on the big screen. (My wife and I were lucky enough to catch it in a Dolby Cinema theater.)
The film blasts off right from the start by introducing us to protagonist Baby, played by Ansel Elgort, doing what he does best: driving. Set to the tune of "Bellbottoms" by The Jon Spencer Blues Explosion, we are introduced to Baby using his music as a conduit for his skilled driving, which entails out maneuvering every cop that comes his way, in the opening scene. This blistering introduction sets the stage for the unique relationship the soundtrack has with the film, and makes for its most unique and endearing quality.
Baby's motley crew of thieves — Buddy, Bats, Darling and Griff — are played by Jon Hamm, Jamie Foxx, Eiza González and Jon Bernthal, respectively, and Kevin Spacey plays Doc, the leader of the group and the man who keeps Baby under his thumb. With the exception of Spacey's Doc, who can be maniacal and heartless one moment and then act as a father figure the next, the others come off as basic, one-note thugs, aided only by Wright's clever dialogue.
Elgort's Baby plays like a slightly less stoic version of Ryan Gosling in Drive, speaking only when he must and showing little emotion. His constant need for music stems from the tinnitus he sustained after a horrific car accident that claimed the lives of his parents. He only begins coming out of his shell after meeting Debora, played by Lily James, a server at the diner he frequents. Like so many of these movies go, however, their new love is threatened when Baby is brought back into a life of crime for "just one more job."
Narratively speaking, there's not really much going on in Baby Driver. The film hops back and forth from heist to love story a few times; then it's over. Each segment is so well executed, however, that the slight plot feels entirely inconsequential. The first two acts are such a thrill though that it leaves the latter half looking noticeably weaker.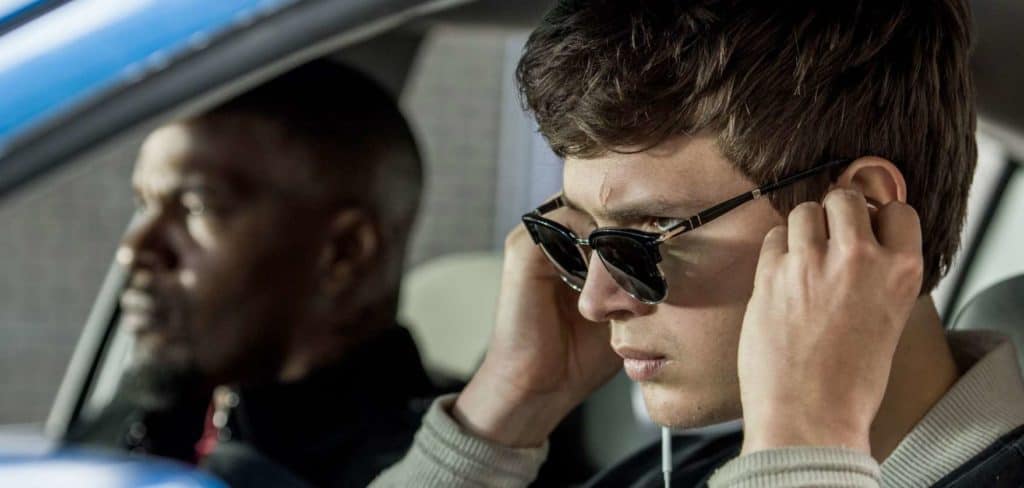 Because Baby is constantly listening to his iPod, we, by proxy, are as well. There's a constant symmetry between the visuals and music, and this is a mechanic that never gets old and transforms what amounts to an above-average heist flick into something much more.

Baby Driver is Edgar Wright's love letter to music, framed within a glorious heist film. It shows us we should always carry our own playlists, though maybe not so obsessively, and allow music to fuel our creativity. Now this is one musical I can get behind.