Blu-ray Release Date: February 7, 2017
Director: 
Kirsten Johnson
MPAA Rating: 102 Minutes
Purchase:
Amazon
This product was provided for free for the purpose of this review. All opinions are our own.
When it comes to the Criterion Collection's contemporary titles, the majority of their selection happen to be male filmmakers. Established male filmmakers like Wes Anderson, Noah Baumbach, the Dardenne brothers or, say, Michael Haneke. All of which are rather safe picks; all a bit mainstream, essentially. However, this time around they have seemed to break from their comfort zone, releasing Kirsten Johnson's highly-regarded feature, Cameraperson, which appeared on a multitude of best-of lists from last year. Here it is presented in a new high-definition digital master, alongside a handful of well-crafted supplements that offer considerable insight into the production of the film.
Perhaps, the most striking detail one gleans from the two supplements conducted by the Criterion Collection for the purposes of this release would be how Johnson concentrates much of her time conversing about the efforts of her collaborators; how their input helped shape, and in some ways actually helped create, the film. She speaks about visibility and invisibility within the contexts of Cameraperson, but she also appears to be extending that view into these interviews/roundtable discussions as she is quick to defer the attention to her editors, producers and sound recordists.
In Editing "Cameraperson," Johnson, producers Marilyn Ness and Danielle Varga, and editors Amanda Laws and Nels Bangerter provide a rather comprehensive account of the film's genesis, its evolutions, and its eventual final form. Presented in the accustomed (to anyone familiar with Criterion's productions) talking-head format spliced with corresponding film footage and stills. Johnson seems to lay the foundation of the fil's creation, providing just enough information and context before giving way to her collaborators to fill in the rest of the story. Through the course of Johnson's talks it becomes abundantly clear the immense amount of trust she has placed in her production crew in regards to, not only, creating Cameraperson but also in terms of recounting the film's creation. You can tell that she values their individual inputs greatly which provides an insight as to how the film is so successful in what Johnson sets out to accomplish.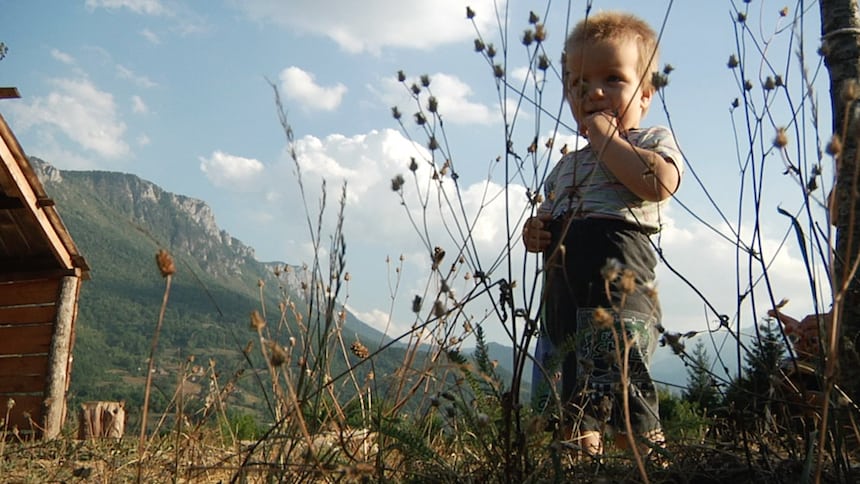 One of her producers, in particular, speaks about the film's layered meanings and perspectives created through its various iterations, with different aims, over the years which is then displayed throughout In the Service of the Film, a roundtable discussion that finds Johnson reminiscing with her fellow crew members on the prior projects, the unused footage of which makes up the bulk of Cameraperson. Personal accounts from her sound recordists, Wellington Bowler and Judy Karp, and her producer Gini Reticker are like a trip down memory lane for the group; while also illuminating the different meanings and interpretations found within the work considering their shared histories and respective viewpoints. It digs deeper and adds yet another layer to Johnson's film, while also highlighting and spotlighting that through-line of her trust and compassion.
These two productions serve as the brightest spots within the supplemental offerings; although, that does not mean that the others are not worthwhile. Also included, you'll find one of Johnson's short films from 2015, titled The Above, that focuses on a surveillance balloon floating over Kabul, Afghanistan; two excerpts from film festival talks in 2016 (one with filmmaker Michael Moore) are also included; and, of course, the customary essays that always accompany a title. Worthy reads from filmmaker Michael Almereyda and writings from Johnson, herself.
All in all, yet another exceptional release from the Criterion Collection and an interesting contemporary choice no less.