Corrupt politicians. Suffering staff. I could be describing a film or the current state of affairs. It's hard to tell. In Run This Town, written and directed by Ricky Tollman, it's difficult to gauge which corrupt thing will be the one that takes the mayor of Toronto, Rob Ford (Damian Lewis), down. Films about politics aren't exactly groundbreaking, but a film focusing on a novice journalist, Bram (Ben Platt), and the mayor's staffers — now that's a slightly new angle; the fact that this story is fictionalized with bits of truth, and that it is based on a real former mayor, also adds an interesting layer. Unfortunately, the writing shallowly addresses most of its younger subjects and has the same trouble getting to the root of Rob Ford. 

Bram is a young reporter fresh out of college. He works for a paper writing "best of" lists. Due to layoffs at the paper, Bram takes a call that leads him to a photo of the mayor posing with some shady guys. We learn there's a video of the mayor smoking crack, and Bram makes it his mission to have this as his story, regardless of whether the publication thinks he's ready or not. 


Kamal (Mena Massoud of Aladdin) is a special assistant to the mayor and also the mayor's right hand. He keeps busy, between his official duties of keeping track of the mayor's schedule and helping him at press events and also his unofficial duties of trying to cover up the mayor's misbehavior. When news of this video surfaces, he makes it his top priority to ensure it's not released. 

Ashley (Nina Dobrev), is another special assistant who is new to the team. She unfortunately gets caught in the middle of one of Ford's whirlwinds, one in which he is intoxicated in the office. During the episode, Ford whispers in Ashley's ear, touches her, then yells profanity, all while Kamal tries to diffuse the situation. 

This isn't the first of the mayor's incidents; he's also accused of assaulting a former mayoral candidate at an event. At times I wished the staffers were worse at their jobs so that the mayor was held accountable for the crappy things he did, and mostly I just wanted Ford to be better.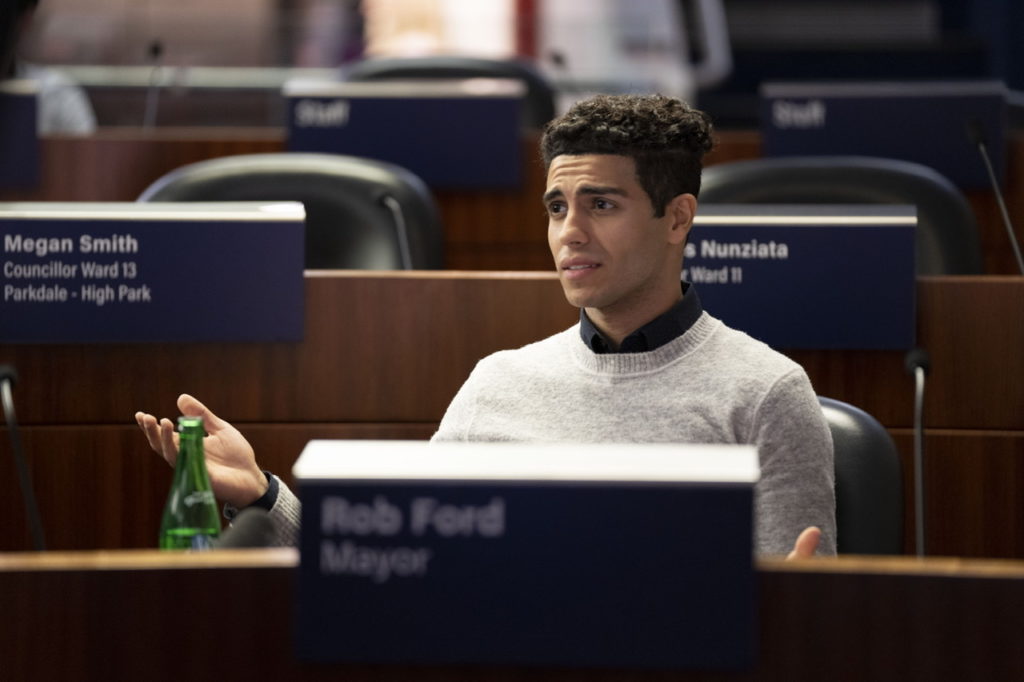 Bram's storyline is repetitive, bordering on broken-record territory, as he attempts to hop on stories he has no business being on, due to his inexperience. The character is presented in such a way that, when he tries to exert more confidence, he just comes off as unsympathetic and entitled. His white-male privilege is brought to the surface by his sister,and it doesn't help to know he's aware and continues in the same manner. What makes this character unlikeable is that he spends too much time trying to imitate a good reporter rather than doing what it takes to actually be one. 

Massoud is present in about as many scenes as Platt, and from those, it's obvious he's a decent politician in training. He's professional, aggressive, a people-person and, most importantly, has the answers for everything. He brings a calming presence when things seem to be going off the rails, and his character is given slightly more shape than the other staffers, as we see bits and pieces of his family life as he cares for his grandmother. I'm not as familiar with his work and haven't seen Aladdin yet, but I hope to see him in another film where his character is more center stage.
I was an avid Vampire Diaries viewer, so I'm very familiar with Dobrev. And in this particular film, her story isn't given space. Her harassment seems like an afterthought to the drug scandal, and when any type of harassment is present in film, especially ones like this, it's always indicative of a bigger issue and needs to have more space in the narrative. There are attempts to devote more scenes to this issue, but ultimately her story is overshadowed, losing some of its weight. 

Similarly, the other misdeeds of the mayor feel diminished under this video. The film covers a few key details of Ford's real life, but to someone like me — and others who didn't witness his scandals unfold, the picture of Rob Ford seems more simplistic than it really was. The larger emphasis on this video does a disservice to both stories, making the film more shock-value focused than it should've been. 

Run This Town couldn't hit the political-thriller notes because of the way it chose to tell its story. It needed more pieces of Rob Ford and his staffers to paint a more complete picture.