The year-end lists continue to roll out as Film Pulse contributor Ernie Trinidad counts down his top 20 films of 2015. Although it shouldn't be a big surprise, we now have three writers who have chosen Mad Max: Fury Road as the number one movie of year.
Mad Max: Fury Road – Visually striking, strong performances and masterful direction turn this into a classic.
2. The Revenant – This incredible looking frontier adventure is at once beautiful and flinchingly brutal.  It's one you won't soon forget.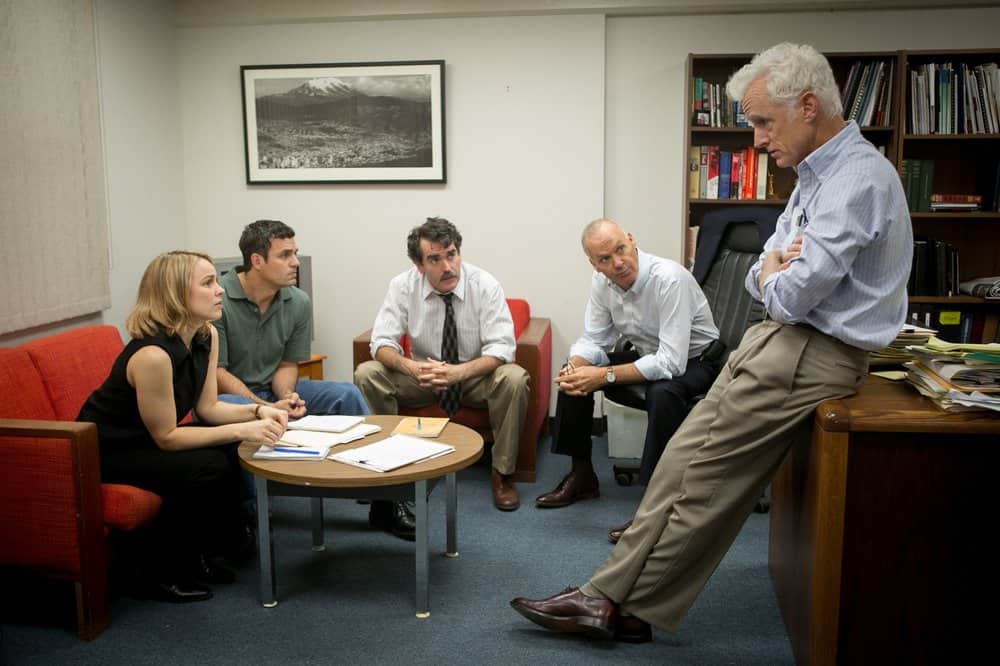 3. Spotlight
– 
Spotlight
is this generation's
All the President's Men
and is more than worthy of sharing the mantle with the best of films about journalism.
4. Creed
– If you told me that a spin-off, and seventh film, would prove to be the second best in the series I would have likely laughed in your face. 
Creed
is that and more.
5. Sicario
– Tense, exciting and visceral.  Everything a good thriller should be.  Pair that with some great performances and direction and you have
Sicario.
6. The Hateful Eight
– Tarantino's latest is a great Agatha Christie mystery that takes place on the frozen tundra of the frontier.  Despite not being amongst his best it still delivers all the flourishes he's known for and 70mm certainly doesn't hurt.
7. The Tribe
– A two hour movie that features nothing but sign language and no subtitles?  This could turn out bad.  Wrong!  The film proves that regardless of language, as long as the story is well written and engaging, the audience will understand and follow.
8. Ex Machina
– This is one of the best films about artificial intelligence to come out of the wood work in some time.  Great acting, direction and story contribute to making this a compelling sci-fi drama.
9. Straight Outta Compton
– Never listened to NWA.  I knew of NWA.  Wasn't my thing.   This bio-pic, however, was incredibly entertaining from beginning to end.  While NWA still ain't my thing I have a new appreciation for them thanks to this film.
10. Steve Jobs
– If at first you don't succeed.  Danny Boyle's take on the life of Steve Jobs is both fascinating and well told.  Michael Fassbender gives a great performance as Jobs.
Here are Ernie's 11 – 20 picks:
11. The Walk
12. Joy
13. Youth
14. Carol
15. The Martian
16. Anomalisa
17. The Big Short
18. Love and Mercy
19. Kingsman: The Secret Service
20. Mission:Impossible-Rogue Nation