RELEASE DATE: October 20, 2017
DIRECTOR: Tyler MacIntyre
MPAA RATING: R
RUNTIME: 98 minutes
It has been more than 20 years since Wes Craven's Scream was released, a a fact that Tragedy Girls both relishes and regrets. On one hand, it is an unambiguously contemporary movie: it takes the notion that meta-comedy has seeped into mainstream pop culture and seeks to augment it.
On the other hand, the candy-colored, gleeful and effervescent manner in which it hacks, slashes, and stabs its way through a messy plot would be at home as a kind of companion piece to a more immediate moment in movie history. Director/co-writer Tyler MacIntyre has a laundry list of influences in his work here. Craven might be at the top, but I'd be shocked if Clueless and Mean Girls weren't also running through his mind.
All of these titles have a commonality: they present themselves as a standard entry in their respective genres but proceed to use a basic formula to satirize the societal and filmmaking tropes that cause them to exist in the first place. Tragedy Girls notices something and grabs on. It peeks in on a generic American town, one where the license plates sneakily don't identify what state they're in, and the location is only described as "midwestern."
At the local high school, we find McKayla (Alexandra Shipp) and Sadie (Brianna Hildebrand), two longtime best friends. In the wake of a recent string of disappearances and murders, they start a blog where they drum up conspiracy theories and other rabble-rousing editorials.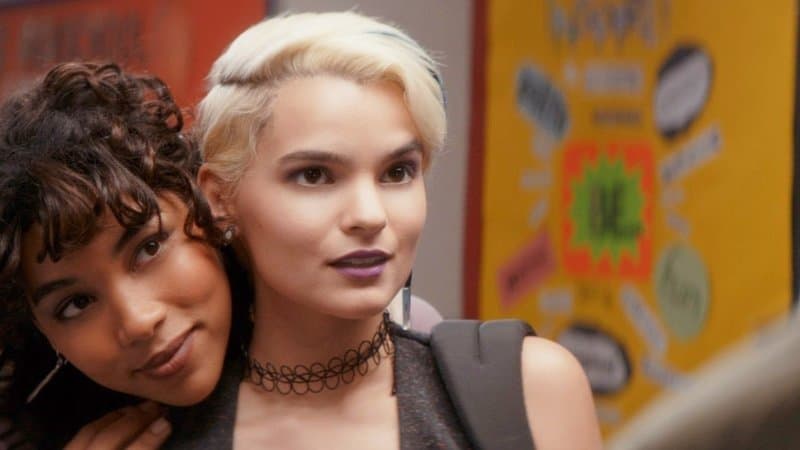 Their secret is that they're behind the crimes. Taking inspiration from a serial killer whom they kidnap (Kevin Durand), McKayla and Sadie draw up a hitlist, going after anyone they feel is impeding their rise to fame. As the blog grows more popular, they pine for media attention, positioning themselves as telegenic vigilantes who ask questions that the sheriff (Timothy V. Murphy) won't.
Tragedy Girls enjoys watching McKayla and Sadie manipulate their surroundings – their classmates, their teachers, the police and the local news – who can all stand to bolster their exposure. Every murder or twist in the case means hundreds or thousands more followers. If they can combine building the movement and taking out a rival, that's even better. A popular boy (Josh Hutcherson), who refuses to promote their blog (claiming it would be "off-brand"), finds himself in a rather unfortunate motorcycle accident.
The movie also takes pleasure in showing the two ratchet up the stakes. Their first few killings either lack a body (dissolved in acid) or look like an accident (see above). When they figure out how to murder someone in a way that looks like a murder, they're over the moon. MacIntyre allows us to bask in the gory absurdity of such moments but takes the opportunity to evolve an underlying thesis.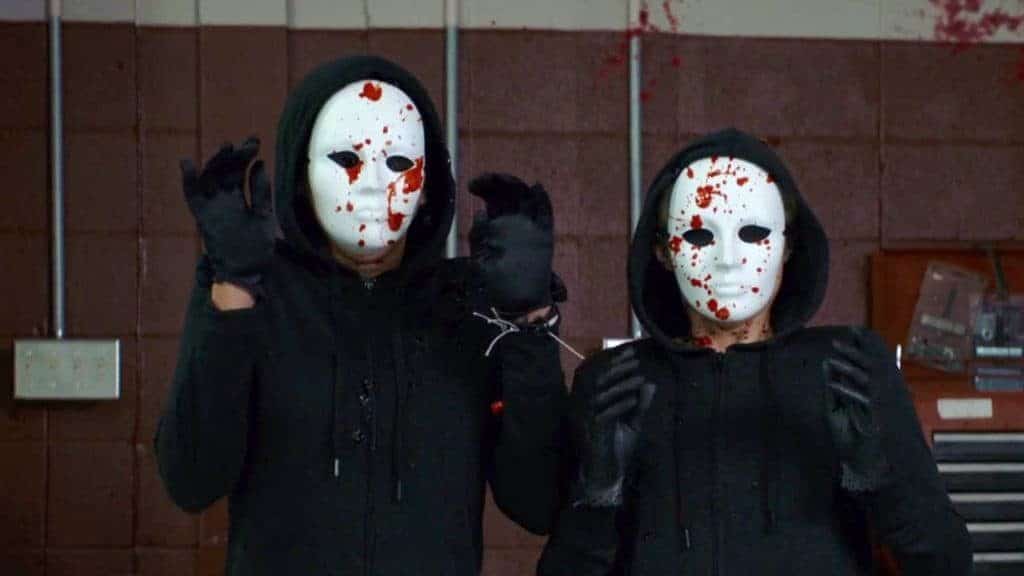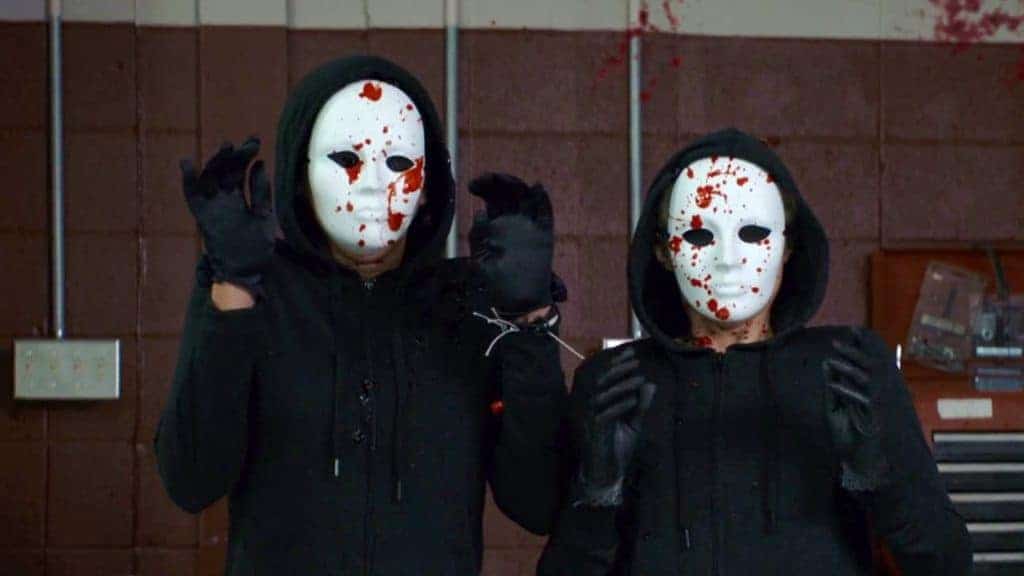 Tragedy Girls digs into the commodification of mass grief and hysteria that marks the town's usable reactions to the deaths. While there have been many great films that criticize the media's fixation on these matters, this one shows the connotation between this long-set interest and the new ways in which online outlets can propel fame.
It's smart, funny, biting stuff. This is as headstrong of a take on this material as you could imagine. In true satirical form, you get the feeling that no one, on any side or allegiance, learns anything by the end of the movie. Shipp and Hildebrand deliver in the lead roles. They crave the attention they can get through their actions, coldly playing a precarious game while bickering over petty issues a few minutes later. In that sense, the film operates more as a sampler of ideas than a dramatically satisfying event. The plot is shaped around the characters, instead of the reverse.
And the lack of a plot evolution or resolution does disappoint. The film decides to come to a halt; although as all great high-school movies do, it wraps up many of its loose ends at the prom. But we go into this movie knowing that we will see some creative deaths, and Tragedy Girls delivers.
We invest ourselves in the notion of what MacIntyre is really doing. He examines a collective – programmed desire for notability at any cost. And then he gives us two compelling protagonists on that road. When someone comes into their lives, we assume that McKayla or Sadie consider them an ally or an enemy. But a film like this gets us going on the belief that any dynamic is ripe for much more than face-value assessment. It's just that they don't know that.