Release Date: July 25, 2017
Directors: Steve Miner, Anthony Hickox, Eric Freiser
MPAA Rating: R
Purchase: Amazon
This product was provided to us by Lionsgate for the purpose of this review. All opinions are our own.
Not only had I not had the pleasure of experiencing the Warlock trilogy before, this is a series that I had never even heard of, unless I drowsily watched it on "USA Up All Night" in the past and just forgot. Thankfully, all that changed now that Lionsgate has released all three movies on Blu-ray as part of their Vestron Collector's Series.  
For those, like myself, who may be uninitiated in the fantasy horror cheese-fest that is Warlock, the first two films Warlock and Warlock: Armageddon star Julian Sands – who I always recognize as the spider lover from one of my favorite movies, Arachnophobia. Sands is the titular character, a practitioner of the dark arts who flees execution in the 17th century and ends up in the glorious 1980s.
In the first film Richard E. Grant stars as Redferne, another 17th century transplant and witch hunter who follows the warlock into the future in order to kill him. Lori Singer plays the fun-loving Kassandra who unwillingly gets caught up in all this warlock nonsense as Sands' character attempts to gather up pages from a book that will bring on the end of all existence. Released in 1989, the film makes for a fun road-trip movie with some light horror elements and a great villain in Sands' charismatic witch.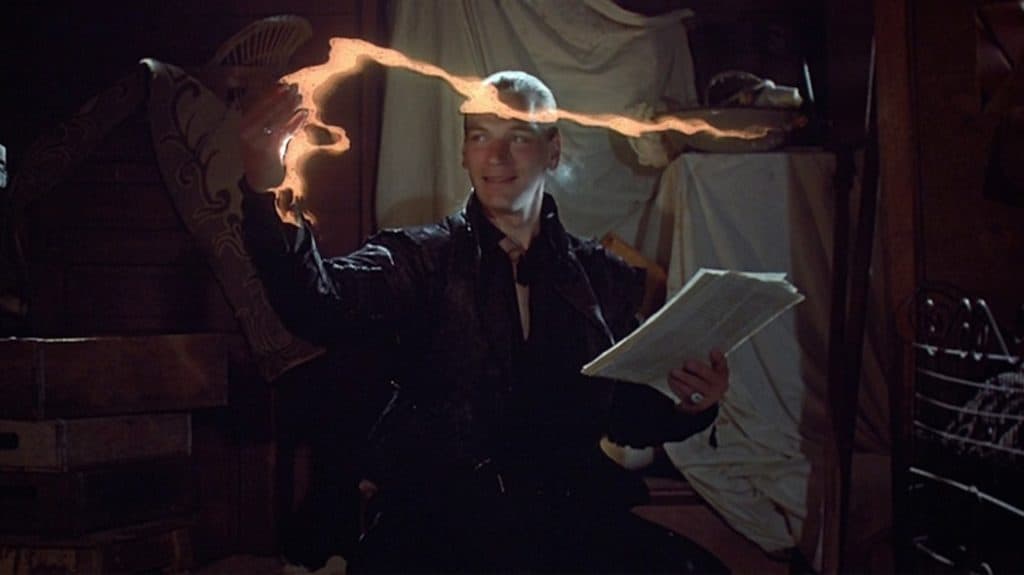 The second film, Warlock: Armageddon, released in 1993, starts off in a very similar fashion- Sands is a warlock in the 17th century who becomes reborn in the 20th century, this time looking for pieces of a stone that will unleash satan into the world. Tonally, this one is a pretty big departure from the original, ramping up the killing and gore, and relying more heavily on special effects. Many find the first entry in the series to be the best, but personally, I had the most fun with Armageddon. In addition to Sands returning, it stars Chris Young (the freshman from PCU), and Paula Marshall. With loads of makeup and gore effects feeling so appropriately early '90s, I loved it- especially when Warlock turned the guy into an abstract sculpture. 
Warlock III: The End of Innocence is the final, and by far weakest, of the series. Hellraiser's Ashley Laurence stars as a college student who finds out she inherited a house from her birth parents who she never knew and invites her crew of friends to explore the place. Everything is going great until that pesky warlock (not played by Julian Sands) shows up and begins systematically killing the kids. Released in 1999, the film feels half-baked and manages to be dreadfully dull aside from a few great '90s tropes, including bad CG and copious use of Kangol hats. I still had a few laughs with it though, so it wasn't a complete loss.
All three films contained in this two-disc Blu-ray look fantastic, however there were a few weird sound mixing issues on the second and third films that I suspect is more of an issue with the movies themselves and not the transfer on the Blu-ray. The first disc contains Warlock and gobs of bonus features, including an audio commentary with director Steve Miner, interviews, trailers, behind-the-scenes footage, a stills gallery and all the bonus content from the previously released DVD version.
The second disc contains the other two films and their respective bonus features, which are certainly fewer but still satisfying nonetheless. The bulk of this content is from previous home releases; still it's a welcome addition.
With its great cover art and hours of bonus content, the Warlock Collection is another must-have for genre fans and collectors of cult cinema and another win for Lionsgate and their Vestron series.