This product was provided by Arrow for the purpose of this review. All opinions are our own.
Packed to the brim with an overwhelming amount of music, John A. Alonzo's comedy FM plays like the Baby-Boomer version of Rock 'n' Roll High School (released a year later), though it carries only a fraction of the same energy. 
The film largely follows the day-to-day lives of a motley crew of FM radio station workers as they rise to become the No. 1-rated station in Los Angeles. Led by the laid-back cool guy Jeff Dugan (Michael Brandon), the DJs are living a happy existence, that is until a new sales manager comes in and sells tons of advertising time to the U.S. Army.
Unhappy with this decision, Dugan quits, causing the station crew to go on strike, making it a public affair that quickly amasses an enormous crowd of supporters: think Airheads but with a lot more Boz Scaggs and The Doobie Brothers and a lot less metal. 
As a competent piece of filmmaking, FM leaves a bit to be desired, despite its handful of solid performances, namely a young Martin Mull who plays star DJ Eric Swan. Though not necessarily a laugh riot, it's an enjoyable watch to see the everyday shenanigans of the station and its colorful cast of characters, but when the strike happens, thankfully in the final act, the entire endeavor falls apart into a messy slapstick comedy that's entirely too silly for its own good.
The big draw with FM is the soundtrack, which must have cost a fortune to license, considering the incredible number of big singles featured. There's never a moment when a song isn't at least being heard in the background, and there's hardly an unrecognizable track among them. In addition, there are two concert sequences, one featuring Jimmy Buffett performing Livingston Saturday Night (before he became a cultural icon with his beach-themed tunes) and with Linda Rondstadt playing three full songs. 
It's an interesting omission that FM avoids acknowledging the punk-rock movement altogether, likely because these bands were getting no radio play during this time, but it still seems odd, as if this is a world where only classic rock (as we now call it) exists and not the many anthems of rebellion this film seems to channel. 
Despite the lack of laughs and a soundtrack that is largely made up of bands I actively despise, there's a certain charm about FM that kept me engaged throughout its 1-hour-and-44-minute runtime. Shot during the height of FM radio, right after large corporations commercialized and homogenized them, this is a sometimes-fascinating, time-capsule piece that should be more revered now than when it was released in 1978.
The folks at Arrow Video must have thought this too, as a new Blu-ray edition has just been released, which uses a new transfer from the original 35mm negatives. This isn't a restoration, but the quality of the negatives must have been nearly pristine, as the transfer looks practically perfect.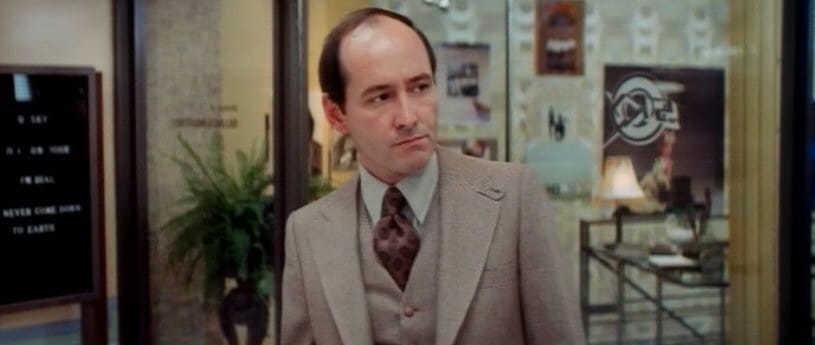 On the disc are new interviews with Michael Brandon, John A. Alonzo and writer Ezra Sacks; an appreciation of the soundtrack by film critic Glenn Kenny; and a huge gallery of promotional materials and stills. 
Sadly, it's missing a commentary track, and more interviews with cast members (and perhaps a making-of featurette) would be nice additions, but as it stands, this is another quality release from Arrow. Although FM is a film that didn't do very well when it was originally released, and for all intents and purposes is not a very good movie, it remains an interesting look back at the early days of commercial FM radio with a massively impressive soundtrack. 
image source: cultandexploitation.blogspot.com