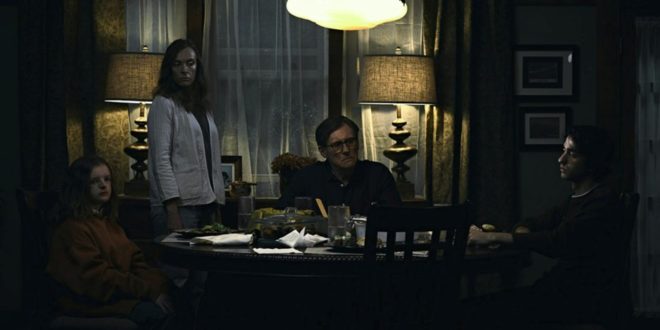 More programs were announced for this year's SXSW Film Festival including the Midnighters, Headliners, Narrative Spotlight, Documentary Spotlight, Episodic, Global, Festival Favorites, Special Events, and Shorts lineups.
SXSW 2018 will take place March 9-18 in Austin, TX, be sure to click over to the official site at SXSW.com for more information.
MIDNIGHTERS
Scary, funny, sexy, controversial – ten provocative after-dark features for night owls and the terminally curious.
Ajin: Demi-Human
Director: Katsuyuki Motohiro, Screenwriter: Kouji Seko
Endless battle between human being and immortal demi-human "Ajin". A stunning, strikingly original action masterpiece! Cast: Takeru Satoh, Go Ayano, Tetsuji Tamayama, Yu Shirota, Yudai Chiba, Rina Kawaei, Minami Hamabe (North American Premiere)
Blood Fest
Director/Screenwriter: Owen Egerton
In Blood Fest, fans flock to a festival celebrating the most iconic horror movies, only to discover that the charismatic showman behind the event has a diabolical agenda. Cast: Robbie Kay, Jacob Batalon, Seychelle Gabriel, Tate Donovan, Barbara Dunkelman, Nick Rutherford, Zachary Levi (World Premiere)
Untitled Blumhouse-Bazelevs Film
Director/Screenwriter: Stephen Susco
A 20-something finds a cache of hidden files on his new laptop and is thrust into the deep waters of the dark web. From the makers of Unfriended, this thriller unravels in real-time, entirely on a computer screen. A warning for the digital age. Cast: Colin Woodell, Betty Gabriel, Rebecca Rittenhouse, Andrew Lees, Conor del Rio, Stephanie Nogueras, Savira Windyani (World Premiere)
Field Guide to Evil (Austria, Germany, Greece, Hungary, India, Poland, Turkey, U.S.)
Directors: Veronika Franz and Severin Fiala, Peter Strickland, Agnieszka Smoczynska, Katrin Gebbe, Can Evrenol, Calvin Reeder, Ashim Ahluwalia, Yannis Veslemes
They are known as dark folklore. Created to give logic to mankind's darkest fears, these stories and others laid the foundation for what we now call the horror genre. (World Premiere)
Ghost Stories (United Kingdom)
Directors/Screenwriters: Jeremy Dyson, Andy Nyman
An arch skeptic debunker of the supernatural embarks upon a terror filled quest when he stumbles across a long lost file containing details of three cases of inexplicable 'hauntings'. Adapted from the Olivier Award Winning hit stage play. Cast: Martin Freeman, Alex Lawther, Jill Halfpenny, Andy Nyman, Paul Whitehouse(North American Premiere)
Hereditary
Director/Screenwriter: Ari Aster
When Ellen, the matriarch of the Graham family, passes away, her daughter's family begins to unravel cryptic and increasingly terrifying secrets about their ancestry. Cast: Toni Collette, Gabriel Byrne, Ann Dowd, Alex Wolff, Milly Shapiro
A Prayer Before Dawn (United States, France)
Director: Jean-Stéphane Sauvaire, Screenwriters: Jonathan Hirschbein, Nick Saltrese
Based on the international best-seller, A Prayer Before Dawn is the true story of Billy Moore, a troubled young British boxer sent to one of Thailand's most notorious jails. Cast: Joe Cole, Vithaya Pansringar, Panya Yimmumphai, Nicolas Shake (North American Premiere)
The Ranger
Director: Jenn Wexler, Screenwriters: Jenn Wexler, Giaco Furino
Teen punks, on the run from the cops and hiding out in the woods, come up against the local authority—an unhinged park ranger with an axe to grind. Cast: Chloë Levine, Granit Lahu, Jeremy Pope, Bubba Weiler, Amanda Grace Benitez, Jeremy Holm, Larry Fessenden (World Premiere)
Upgrade
Director/Screenwriter: Leigh Whannell
In a utopian near-future when technology controls everything, a technophobe avenges his wife's murder and his own paralysis-causing injury with the help of an experimental computer chip implant – STEM – that turns out to have a mind of its own. Cast: Logan Marshall-Green, Betty Gabriel, Harrison Gilbertson, Benedict Hardie (World Premiere)
What Keeps You Alive (Canada)
Director: Colin Minihan, Screenwriters: Colin Minihan, Brittany Allen
Majestic mountains, a still lake and venomous betrayals engulf a female married couple attempting to celebrate their one-year anniversary. Cast: Hannah Emily Anderson, Brittany Allen, Martha Macisaac, Joey Klein, Charlotte Lindsay Marron(World Premiere)
Additional Features:
HEADLINERS
Big names, big talent: Headliners bring star power to SXSW, featuring red carpet premieres and gala film events with major and rising names in cinema.
Isle of Dogs (United States, United Kingdom)
Director/Screenwriter: Wes Anderson
Set in Japan, Isle of Dogs follows a boy's odyssey in search of his dog. Cast: Bryan Cranston, Koyu Rankin, Edward Norton, Bob Balaban, Bill Murray, Jeff Goldblum, Kunichi Nomura, Akira Takayama, Greta Gerwig, Frances McDormand, Akira Ito, Scarlett Johansson, Harvey Keitel, F. Murray Abraham, Yoko Ono, Tilda Swinton, Ken Watanabe, Mari Natsuki, Fisher Stevens, Nijiro Murakami, Liev Schreiber, Courtney B. Vance (North American Premiere)
NARRATIVE SPOTLIGHT
High profile narrative features receiving their World, North American or U.S. premieres at SXSW.
Brother's Nest (Australia)
Director: Clayton Jacobson, Screenwriter: Jaime Browne
With their Mother dying of cancer, intent on changing her will to benefit her "new" husband before she dies, two brothers go to extreme and deadly lengths to protect their inheritance from being signed away before it's too late. Cast: Shane Jacobson, Clayton Jacobson, Lynette Curran, Kim Gyngell, Sarah Snook (World Premiere)
Galveston
Director/Screenwriter: Melanie Laurent
After surviving a setup by his criminal boss, a hitman rescues a young prostitute and flees with her to Galveston, Texas, where the two find strength in each other as dangerous pursuers and the shadows of their pasts follow close behind. Cast: Ben Foster, Elle Fanning, Beau Bridges, Adepero Aduye, Robert Aramayo, Lili Reinhart, Maria Valverde (World Premiere)
Most Likely To Murder
Director: Dan Gregor, Screenwriters: Dan Gregor, Doug Mand
Billy, the coolest kid in high school, comes back to his hometown 15 years later to find he's no longer cool and the girl he still has feelings for now dates the former town outcast. Billy becomes obsessed with proving the outcast is a murderer. Cast: Adam Pally, Rachel Bloom, Vincent Kartheiser, John Reynolds, Didi Conn, Ethan Phillips, Doug Mand, Hasan Minhaj, Rebecca Naomi Jones, Julia Goldani Telles(World Premiere)
DOCUMENTARY SPOTLIGHT
Shining a light on new documentary features receiving their World, North American or U.S. premieres at SXSW.
They Live Here, Now
Director/Screenwriter: Jason Outenreath
Austin based refugee house, Casa Marianella, is one of the most prominent refugee houses in the United States, providing life saving services for thousands of immigrants each year. Meet the people who live here now. (World Premiere)
EPISODIC
Episodic tunes in to the explosion of exciting material on non-theatrical platforms, including serialized TV and beyond.
24 BEATS PER SECOND
Showcasing the sounds, culture and influence of music and musicians, with an emphasis on documentary.
Being Frank: The Chris Sievey Story (United Kingdom)
Director/Screenwriter: Steve Sullivan
The hilarious and bizarre story of Frank Sidebottom, the cult British comedian in a papier mâché head, and the secretive life of Chris Sievey, the artist trapped inside. (World Premiere)
Hearts Beat Loud
Director: Brett Haley, Screenwriters: Brett Haley, Marc Basch
A father and daughter become an unlikely song writing duo before she leaves for college. Cast: Nick Offerman, Kiersey Clemons, Ted Danson, Toni Collette, Blythe Danner, Sasha Lane
GLOBAL
A diverse selection of international filmmaking talent, featuring innovative narratives, artful documentaries, premieres, festival favorites and more.
Jeannette, The Childhood of Joan of Arc (France)
Director/Screenwriter: Bruno Dumont
France, 1425. In the midst of the Hundred Years' War, the young Jeannette, at the still tender age of 8, looks after her sheep in the small village of Domremy. Cast: Lise Leplat Prudhomme, Jeanne Voisin, Lucile Gauthier, Victoria Lefebvre, Aline Charles
FESTIVAL FAVORITES
Acclaimed standouts and selected previous premieres from festivals around the world.
Blindspotting
Director: Carlos Lopez Estrada, Screenwriters: Rafael Casal, Daveed Diggs
Lifelong friends Daveed Diggs and Rafael Casal co-wrote and star in this timely and wildly entertaining story about the intersection of race and class set against the backdrop of a rapidly gentrifying Oakland. Cast: Daveed Diggs, Rafael Casa, Janina Gavankar, Jasmine Cephas Jones
Science Fair
Directors: Cristina Costantini, Darren Foster, Screenwriters: Jeffrey Plunkett, Darren Foster, Cristina Costantini
Nine high school students from around the globe navigate rivalries, setbacks, and of course, hormones, on their journey to compete at the international science fair. Facing off against 1,700 of the smartest, quirkiest teens from 78 different countries, only one will be named Best in Fair.
Sorry To Bother You
Director/Screenwriter: Boots Riley
In an alternate present-day version of Oakland, telemarketer Cassius Green discovers a magical key to professional success, propelling him into a macabre universe. Cast: Lakeith Stanfield, Tessa Thompson, Armie Hammer, Terry Crews, Steven Yeun, Omari Hardwick, Jermaine Fowler, and Danny Glover
SPECIAL EVENTS
Live soundtracks, cult re-issues and much more. Our Special Events section offers unusual, unexpected and unique one-off film events.
Cartoon Network Screening at SXSW
For the third year in a row, Cartoon Network presents a fun-filled family event open to all fans. Be among the first to watch upcoming adventure series, Craig of the Creek plus catch brand new episodes of favorite shows Ben 10 and Unikitty! And fans are in for a special treat with a never-before-seen look at Teen Titans Go! to the Movies, coming to theaters this summer.
Doug Benson Master Pancake and Doug Loves Movies Podcast
Doug Benson returns in the continuing tradition of our annual St. Patrick's Day screening of the Leprechaun series. On March 17 we present Leprechaun 5: In The Hood, directed by Rob Spera.