This is a repost of our review from Tribeca 2019. Come To Daddy will be available in theaters and on VOD platforms Friday.
Kiwi mega-producer Ant Timpson is hitting the festival circuit again, this time with his directorial debut, the wild genre mashup Come To Daddy. Beginning as a somber reunion of father and son and ending in a gore-filled bloodbath, Timpson's first foray in the director's chair is anything but a forgettable experience.
Elijah Wood stars as the bowlcut-sporting Norval, a self-described titan of the music industry with a limited-edition gold phone (and an only slightly sleazy mustache) who is visiting his estranged father at his home in the middle of nowhere after receiving a cryptic letter.
Their reunion gets off to an awkward start and goes downhill even more quickly after the first day. To reveal more would be doing the film a disservice, but suffice it to say, things get out of hand for poor Norval.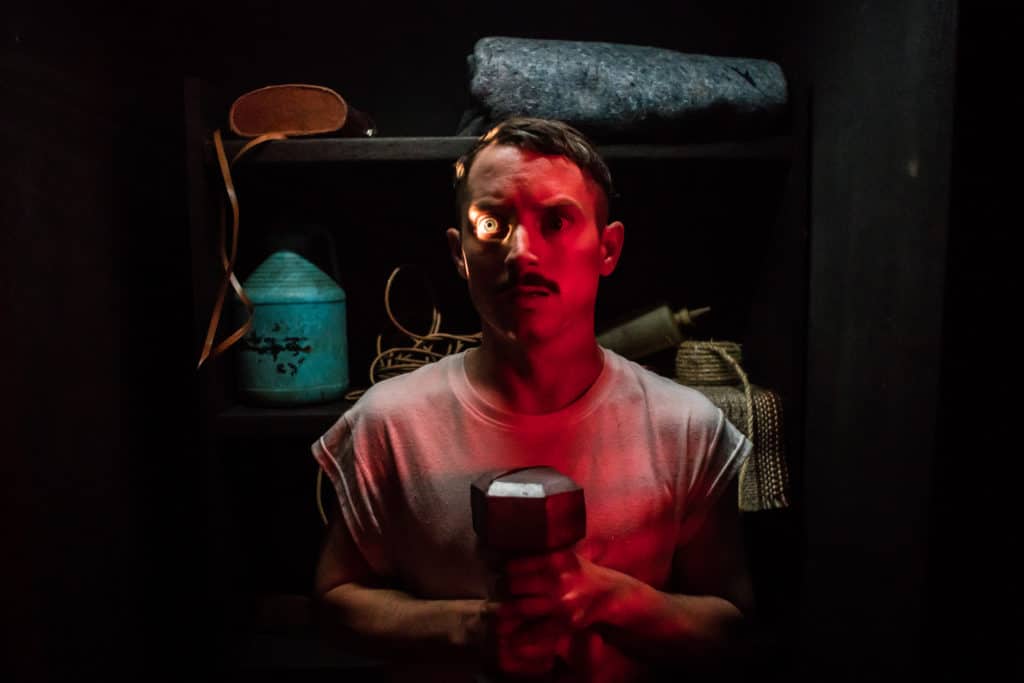 Wood seems to feel most comfortable playing oddball characters lately, and his portrayal of Norval is no exception. He's timid, constantly uncomfortable, recovering from alcohol dependency, and is the type of person who strays from being his true self. He's anxious to reconnect with his father, a man who walked out on Norval and his mom when he was 5, but quickly begins to realize the answers – and closure – he's looking for may never come.
Timpson delivers a slow buildup before unleashing hell on the screen, handing out equal parts intrigue and comedy, the latter of which remains a near constant throughout the runtime through the brutal climax. The dialogue is consistently funny, firmly planting Come to Daddy in dark-comedy territory, giving the supporting cast plenty to work with. Stephen McHattie and Michael Smiley's characters in particular is egregiously over the top in the best way possible, commanding every scene he's in.
Shot nearly in its entirety in an exquisite seaside home, the unique architecture of the house is nearly a character in and of itself, holding plenty of secrets of its own and giving the film a rustic, '70s aesthetic.
When the violence does ramp up, it's shocking, funny and completely in line with one of the individuals responsible for bringing us Deathgasm and Turbokid. Make no mistake, though, while the gore hits hard, Come To Daddy is very deliberately paced before it gets there.
This slow buildup does linger for a bit too long, however, and there are a few conveniences and leaps of faith taken with the script, but it is nothing that brings down the entertainment level of the overall package. Come to Daddy is an outrageous horror-comedy that has a surprising amount of sincerity behind its ridiculous veneer, and I predict this will easily become a sleeper hit.