Blu-ray release date: February 10, 2015
Director: 
Miguel Arteta
MPAA Rating: PG
Purchase:
Amazon
Although originally written in the '70s, the book Alexander and the Terrible, Horrible, No Good, Very Bad Day was made into a movie in 2014, followed by its Blu-ray/digital release this year.
In all honestly, I was a bit upset that the filmmakers made a movie out of one of my most cherished childhood books after seeing a god-awful-looking promo, but the film wasn't as tragic as its trailer led me to believe and is actually a somewhat funny family film.
Coming in at a very reasonable 81 minutes, the movie, directed by Miguel Arteta, reminds us that we sometimes need the bad days to remind us to appreciate the good ones. If you haven't yet had "one of those days," consider yourself lucky and unusual; most of us have. The days where it seems absolutely nothing goes your way are just…the worst.
But it's pretty much smooth sailing, as the saying goes, with Disney's AATTHNGVBD Blu-ray/digital combo, which features a blooper reel, a behind-the-scenes set tour, a music video, and an entire featurette dedicated to the final-scene party and its various Australian animals, including emus, wallabies and kangaroos.
It was nice to see the goofy sides of more well known actors, such as Dick Van Dyke, Megan Mullally, Donald Glover and Jennifer Coolidge, who complement the comedy chops of Steve Carell and Jennifer Garner, who turns out to actually be pretty funny. It was also nice to get to meet the book's author, Judith Viorst, and her son, the real-life Alexander, who is now a parent himself, and to learn more about the titular star, Ed Oxenbould, a real-life Aussie who plays a character obsessed with all things Down Under.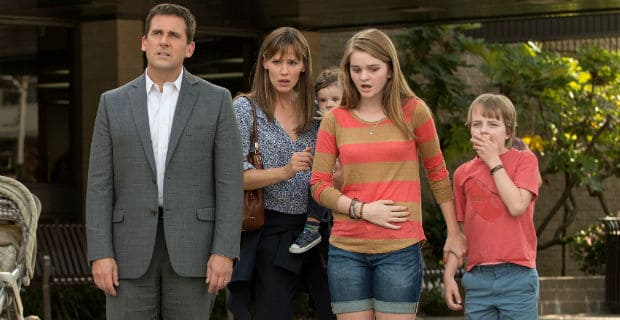 Typical of Disney's Blu-rays, there are a hefty number of special features that don't feel "tacked on" or cheap. The music video for "Hurricane" by The Vamps is very Disney-esque as well and may only be interesting to the kids.
Both the Blu-ray combo pack and the film itself are very family friendly, so this would make for a good gift for anyone who hasn't yet seen the movie in theaters or for someone who loved it and wants to learn more about the making-of secrets.
There are one-on-one interviews with the cast and crew that Oxenbould films himself with a shaky handheld camera, and while it seems Disney was going for charming authenticity, I wanted more time with the crew, instead of just a passing "hello." It would have been interesting to see how the lighting and sound techs, costume designers and production designers played roles in the filmmaking in the same way the animal wranglers were featured.
Overall, this is a decent Blu-ray if you're in the market for a family film and you don't mind the price, but I can't say that I would watch it more than once, unlike Disney's many timeless animated features, with memorable characters who hold a special place in my heart alongside poor little Alexander.