Continuing with our 2019 list extravaganza, here's Ken's top ten movies of 2019. For more thoughts from Ken, be sure to give our year-end podcast a listen here or on your preferred podcast service. To check out everyone's amazing 2019 lists, click here.
10. Knives Out (Rian Johnson)
A fantastic ensemble brings a brilliant script to life in Rian Johnson's fast, witty and thoroughly clever murder mystery. Crafting a complicated whodunnit with keen political commentary, all while keeping things singularly brisk, is no easy task, but Knives Out always keeps a tight handle on its multifaceted proceedings. Its status as a robust box office hit means that we may yet see Johnson's vision for further adventures in this story's world, and any suggestion at all that we haven't seen the last of Daniel Craig's Benoit Blanc is a great possibility to behold.
9. Booksmart (Olivia Wilde)
Booksmart is one of the most perceptive coming-of-age comedies to come along in a while and represents an excellent directorial debut from Olivia Wilde. The film smoothly and smartly strives to balance its many components into one cohesive whole and does so with great confidence. The movie excels with its silliest comic setpieces as much as it does when crafting the pivotal moments in the journeys of its two main characters, played so excellently by Beanie Feldstein and Kaitlyn Dever. 
8. Us (Jordan Peele)
Jordan Peele's second film brings back the tight genre achievements and incisive satire that made Get Out such a landmark. From the script's precise layering of information, building to a perfectly executed plot twist and all that follows from there, Peele delivers a blistering message on the cruel divides in American society, in which the chasms of socioeconomic inequality grow at seemingly exponential levels. That message is delivered through Peele's great direction, impeccable technical credits and a roundly excellent cast led by Lupita Nyong'o.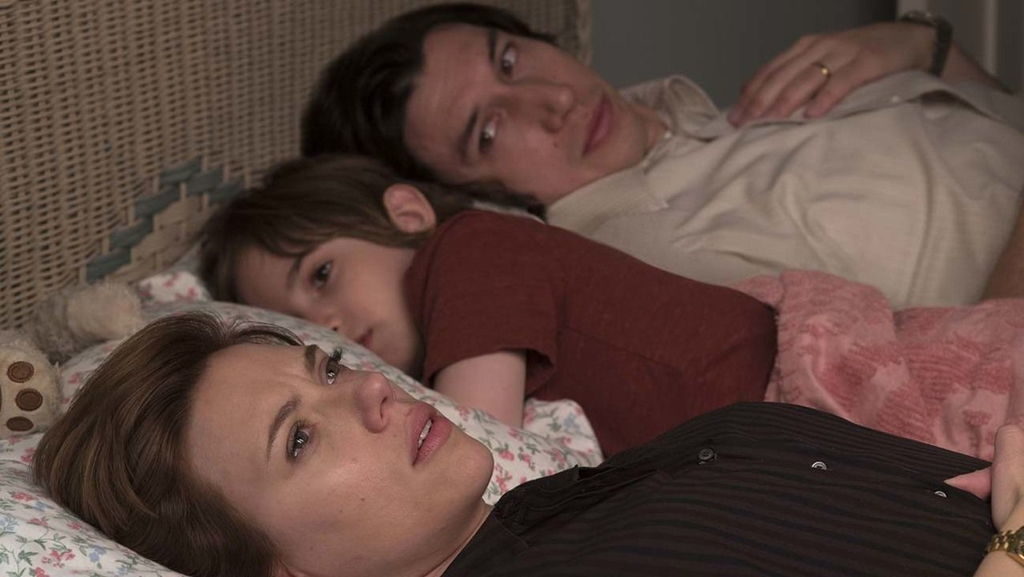 7. Marriage Story (Noah Baumbach)
As an often-grueling but deeply rewarding look at the dissolution of a marriage, careful direction from Noah Baumbach and superb acting make Marriage Story the towering achievement it is. Through all its observant and wise complexities, the movie never loses sight of the characters at its center and all the complicated emotions that they experience through the exhausting endurances they face. It's a work of uniquely vulnerable humanity. Though this phrase might sound pat on its surface, there's hardly any other way to summarize what's at the core of this film. Seeking to glean specific conclusions or takeaways from individual moments or characters is missing the point. You'll gain much more from looking at it as something far more encompassing.
6. The Irishman (Martin Scorsese)
The Irishman is a haunting examination of how one man examines his legacy and the impact of his life. Its lengthy running time searches through vast passages in time and place and in a sign of how it is so thoroughly focused on the choices of one's past, only really does so as an act of recollection. Martin Scorsese seeks yet another angle on the gangster movie, delivering a film that probes the cultural impact of the genre of which so many of his greatest works have become seminal moments. Here, he seeks a more nuanced perspective that both works as a superb crime story and a commentary all its own.
5. The Souvenir (Joanna Hogg)
Joanna Hogg's semi-autobiographical, coming-of-age drama depicts the life of its lead character through the tribulations of a deeply toxic relationship. Yet, even beyond its depiction of the traumas and struggles as they're felt in the moment, it leads into sweeping, indelible observations on the mere idea of how we engage with our past. Hogg's style is sparse, but because of this we are perhaps more aware here than in many other films of how each scene and sequence is paced and timed. It has an almost has a meter-like quality that builds and strengthens, even through its minimalistic aesthetic tendencies.
4. Portrait of a Lady on Fire (Céline Sciamma)
This gorgeously crafted romance boasts stunning cinematography, impeccable production design and riveting performances, brought together under the precise and deliberate direction of Céline Sciamma. It's gutting and energizing all at once: always with the knowledge that these two women will be limited by the interpersonal and societal circumstances of their meeting but transcending in how Sciamma so thoroughly navigates each moment, each glance, each encounter, allowing the characters to both live presently in and remember it all.
3. Homecoming: A Film by Beyoncé (Beyoncé)
While Homecoming was featured in my mid-year Top 10, I've been informed in the past few days that it didn't actually receive a theatrical release, which means it probably doesn't qualify as a "movie" for the sake of various lists and awards qualifications. But, if certain other publications routinely include entire seasons of episodic television on their best-of lists for movies, surely there's space here to mention this spectacular concert documentary. Electrifying and engrossing, this film about Beyoncé's acclaimed set at Coachella in 2018 takes us behind the scenes to the concert's development and shows us the performance itself with dynamic vibrance.
2. Parasite (Bong Joon-ho)
Parasite may consist of a wild swirl of tonal shifts and rapid plot developments, but it's never confused or muddled. Bong Joon-ho is always in complete control of what's happening, expertly taking viewers through his darkly funny thriller. He demonstrates almost startling levels of command over his craft alongside his ability to lead a talented cast and dedicated crew to execute a strong vision. Yet as detailed as every moment of the film is and as expertly as its message is communicated, it doesn't call attention to its own construction, instead letting us take it in as a masterful, overwhelming experience. 
1. The Farewell (Lulu Wang)
What a smart, endearing and engaging film The Farewell is, with poignant observations on cultural identity and family. Lulu Wang has made a movie that connects with us thoroughly and immediately and does so with tremendous skill. The Farewell tells its story with incredible poise, bringing the complicated, often conflicting emotions of its characters together with a wonderful sense of empathy and insight. This is one of the most vital and – often most elusive – keys to a great family drama, and it's done here to soaring effect with excellent performances to match, particularly from Awkwafina and Zhao Shuzhen.