In what should be our final year-end list, Raul de Leon ranks his top ten movies of 2019. To read all of our year-end lists, click over here.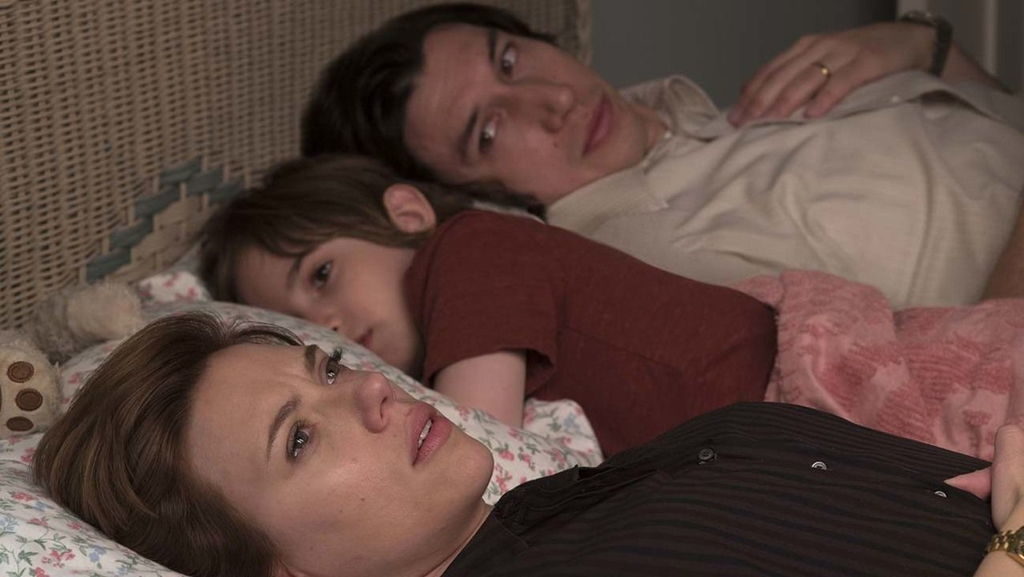 10. Marriage Story (Noah Bombach)
With an important story for a country with such a high divorce rate, Noah Baumbach does not shy away from the harshness of collapsing marriages and breaking families. His nightmarish portrayal of a lawyer-driven divorce is enough to make men postpone their proposal plans. The ordinary husband and wife with understandable positive and negative qualities are easy for us to identify with. Adam Driver gives the best performance of his career.
9. The Lighthouse (Robert Eggers)
The Lighthouse is The Simpsons episode, "Mountain of Madness," dipped in acid. Piss-drunk lightkeepers, screaming sirens, psychedelic visions…it is awesomely bizarre. While they're isolated on a small rock, two men break under the wrath of Poseidon and lose grip of their sanity. The blur between reality and schizophrenic delusion is an awesome refreshment in a principally literal and straightforward Hollywood. With his scruffy beard, heavy accent and brash attitude, Willem Dafoe gives one of his best performances as the bossy seaman.
8. Honeyland (Tamara Kotevska, Ljubomir Stefanov)
Honeyland is a beautiful documentary about a beekeeper in rural North Macedonia, which has all the qualities of a good narrative film. The humanness of beekeeper Hatidze Muratova shines through the screen as she takes care of her dying mother and protects her bees and business from her new, intrusive neighbors. She's a heroic woman in a small world, living a simple life and effortlessly following her intuitive wisdom. You can't not fall in love with her.
7. Uncut Gems (Josh Safdie, Benny Safdie)
Adam Sandler, to my surprise, nails his serious role as a money fiend and gambling junkie, in the most riveting film of the year. With so much at stake and so much happening in such a small amount of time, Uncut Gems throws your nerves into a never-ending cyclone.
6. The Irishman (Martin Scorsese)
The Irishman is the perfect swan song to what is likely Marty's final mafia flick. You couldn't ask for a better ensemble cast: De Niro, Pacino and Pesci all deliver solid performances at the tail end of their careers, and fittingly, The Irishman takes its time, moving at a steady pace to address life's declining years. The three-and-half-hour long epic delves into its characters more so than any of Scorsese's previous gangster films.
5. Joker (Todd Phillips)
While the comic invasion has enticed large audiences with flash and size, Joker casts itself away from the 'theme park' category by taking the butter off the popcorn. Thanks, in large part, to Phoenix's genius, we get a thorough study of a terribly tragic character. One of America's most popular fictional villains is used to explore mental illness and teach us that not even the greatest monsters are innately evil. Unlike the majority of its comic book cousins, a viewing of Joker doesn't provide escapism but rather serious introspection…with a splash of blood.
4. An Elephant Sitting Still (Hu Bo)
An Elephant Sitting Still is a lengthy and somber exhibition of life's unfairness pieced together with an innovative story arrangement. The late Hu Bo did not make a film about depression; he made a film that is depression.
3. A Hidden Life (Terrence Malick)
A film like no other in 2019, A Hidden Life is as Malick as Malick can be: equivalent to The New World in its style but with spirit-stirring substance and a dire story. Malick persistently sticks to his poetic guns, subverting traditional cinematic drama with jump-cuts and scene changes to emphasize theme and feeling. It's an examination of many important themes but the notion of free will and morality as an inseparable knot breathes deeply from beginning to end.
2. 1917 (Sam Mendes)
Far and away the most compelling film from a production standpoint, 1917 is a series of very long takes, essentially disguised as one single tracking shot. The technique fits the story, one in which two British soldiers are ordered to travel miles on foot to stop a battalion from attacking an expectant German army. The non-stop operation naturally accentuates the common reality of soldiers being deprived of time for reflection, remorse and grief amid ongoing war. With the film's breathtaking nighttime sequence, Roger Deakins elevates himself from master of cinematography to god of cinematography, if he wasn't there already.
1. Parasite (Bong Joon-ho)
I wasn't a Bong Joon-Ho fan until Parasite. It's one of those rare films that does everything right, and all emotions are felt as the story takes unforeseeable turns, pulled together by 10 unique and well rounded characters. Joon-Ho's commentary on social class is not as in-your-face obvious as it is in his previous films but is instead masterfully woven into an impeccable script. He diplomatically conducts his audience to feel both hatred and deep sympathy for both the poor and the upper-class families in his brilliantly balanced magnum opus.