Release Date: May 18, 2018 (Netflix)
Directors: Ben Howling, Yolanda Ramke
MPAA Rating: NR
Run Time: 105 Minutes
A zombie pandemic has consumed Australia in Yolanda Ramke and Ben Howling's feature, Cargo, which is based on a short of the same name. While the horror elements are there, they serve as more of a backdrop to this compelling story about generosity, love and compassion amid an uncertain future for all those left alive.
Martin Freeman – perhaps best known for his portrayal of Bilbo Baggins in The Hobbit films (and who recently appeared in the massive theater hit Black Panther as CIA operative/pilot Everett K. Ross) – plays a desperate family man named Andy doing his best to navigate apocalyptic circumstances. Andy and his wife, Kay, who are parents to a newborn daughter named Rosie, have commandeered a houseboat as a way to stay on the move and away from hordes of the undead.
A tragic turn of events sends them deep into the unforgiving Australian Outback, where they face the threat of zombie attacks, as well as encounters with the living, who would seemingly do whatever it takes to survive or to protect what they believe to be theirs. Freeman is a suburb casting choice for this role, balancing the traits of both a cautious and, at times, callous cynic with a savvy and self-sacrificing parental figure, never letting the audience forget that he will do whatever it takes to protect his precious cargo.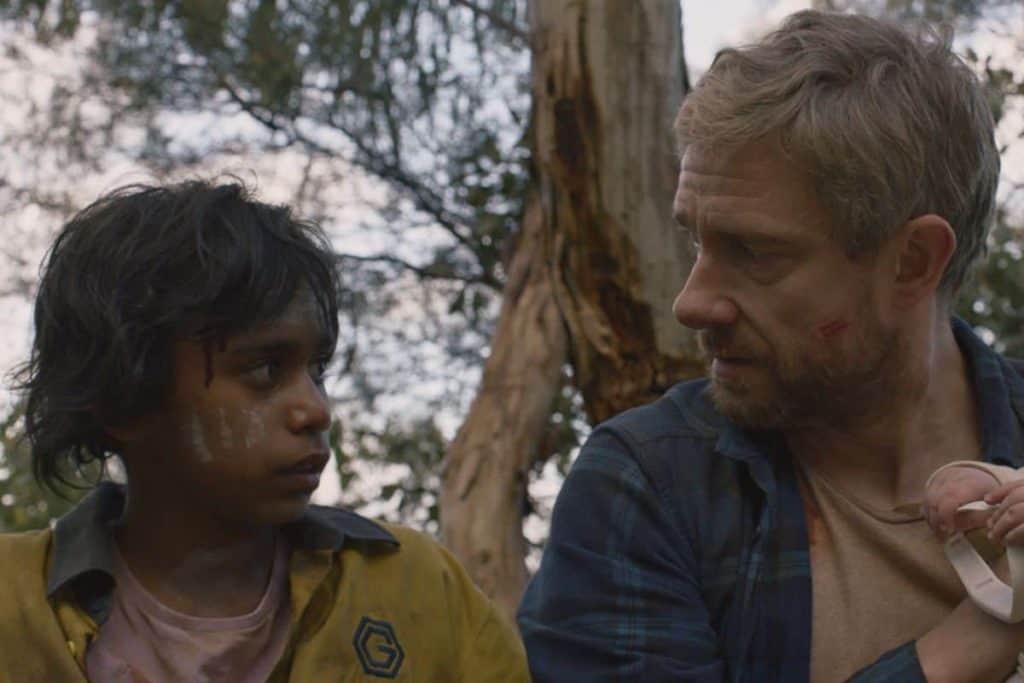 I struggle to recall any film or show I have seen where Freeman did not portray a character who wasn't utterly endearing – save perhaps his recent role in Ghost Stories, another horror film he appeared in recently. From starring in some of my favorite films (Love Actually, The Hitchhiker's Guide to the Galaxy, to name a few) to multiple critically acclaimed TV series (Fargo, The Office, Sherlock), Freeman has maintained a steady stream of successes on both small and silver screens, and it's great to see him playing a lead.
This particular Netflix-backed release delivers a few jump scares, an interesting take on cultures, as well as an unexpected wallop of emotion for a film that I imagined would contain a handful of gags and feature Freeman as simply a jittery, reactive and reluctant hero. Cargo, however, has much more depth and depicts Andy as both a capable and brave protagonist, and there are little to no comedic components.
This film gets a strong recommend from me because, despite its rather predictable trajectory, there are enough new elements to keep the content fresh; the martyr theme is well earned; and its message of self-sacrifice is a lovely one.