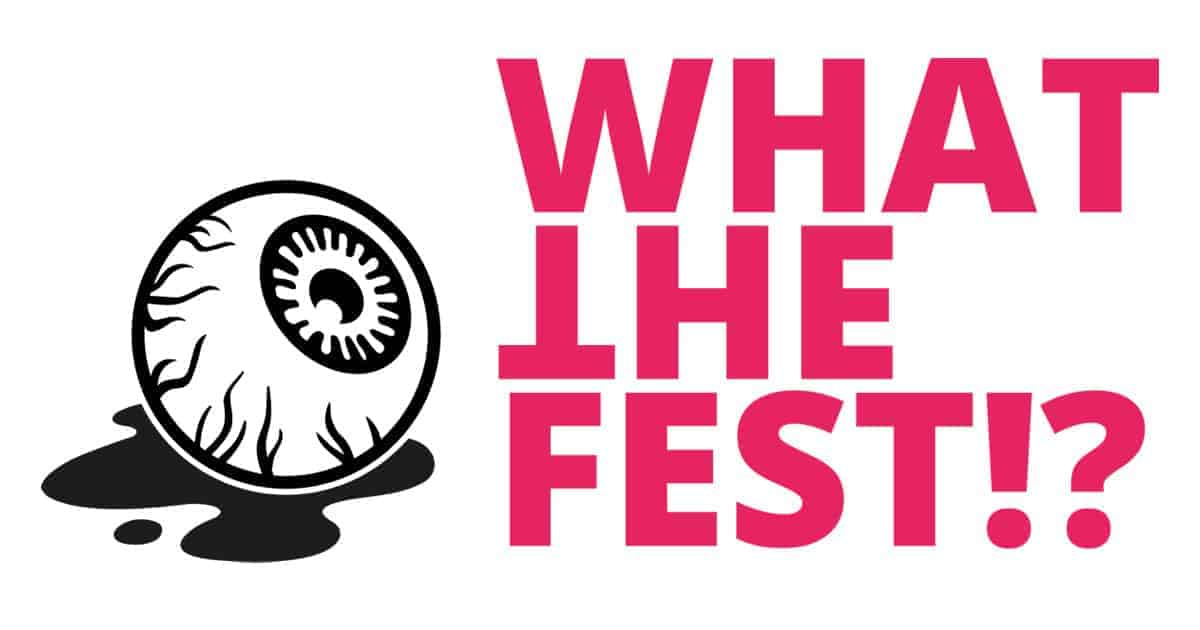 From its audacious title to its eye-popping (no pun intended) logo, IFC's inaugural edition of What The Fest!? promises four days of genre film goodies at the IFC Center in New York. Beginning March 29th and running through April 1st, you can enjoy 10 feature films and one special sneak preview of the upcoming AMC show The Terror.
We'll have full reviews for most of the films screening after each premiere (and will update this post with links), but for now, let's take a look at what's in store for those lucky enough to score some tickets, which may still be available on whatthefestnyc.com.
The opening night film is Coralie Fargeat's intense, brutal and absolutely spectacular Revenge. Certainly one of my top picks for this festival, Fargeat draws inspiration from classic rape-revenge films, but brings a contemporary – dare I say, feminist – spin on it, crafting the best entry in this subgenre I've ever seen. It's difficult to watch at times, but the payoff is huge and the technical prowess and stellar performance by Matilda Lutz make this a must-see.
Another must-see screening is Justin Benson and Aaron Moorhead's The Endless, premiering March 30th. If you're familiar with Resolution or Spring, you'll know these guys are all about blending genres into magnificent mindfucks, and The Endless may be their best work yet. I previously published a full review for this one out of Tribeca last year, which you can check out here. I can't wait to revisit this one. Although my review is spoiler free, I still recommend going into this one completely cold.
If it's body horror you're looking for, Lisa Brühlmann's Blue My Mind, a Swiss coming-of-age story with a creature-feature twist, is going to be right up your alley. Think The Lure meets RAW with top-notch cinematography, and you'll have a good idea of what to expect with this one. It didn't wow me, but it's worth a look nonetheless.
There is one documentary screening at What The Fest!? this year that just happens to be one we featured years ago on our Kickstart Sunday feature, Frank Henenlotter's Boiled Angels: The Trial of Mike Diana. If you're not familiar, Mike Diana has been the only artist in the United States to ever be convicted of obscenity charges, due to his underground comic book, Boiled Angel. Though this isn't the most aesthetically pleasing doc and definitely rough around the edges, it's an incredibly interesting and relevant story.
Another high-profile film that's making its NYC premiere is Jeremy Dyson and Andy Nyman's Ghost Stories. Based on the stage play, this supernatural anthology follows a skeptic as he investigates three cases of the paranormal and finds himself in a situation that he can't possibly explain. While the ending will no doubt divide audiences, this creepy chiller gave me the spooks a few times over.
Keeping with the supernatural theme is Joko Anwar's Indonesian thriller Satan's Slaves. A remake of the 1982 film of the same name, the film follows a family that, after the death of a member, becomes haunted by spirits and ghouls. This film has a little bit of everything and rises above your standard gothic horror fare.
If you're in the mood for something a little more chaotic, check out Ryan Prows' Lowlife, a Tarantino-esque action thriller filled with nasty people, nasty violence and all sorts of other nastiness. The only other thing you need to know is that it features a luchador who frequently blacks out and goes into a violent rage, obliterating everyone in his path. As a bonus, anyone who shows up to the screening in full head-to-toe luchador attire will get in free.
What The Fest!? will feature one repertory screening with the newly remastered version of Marek Piestrak's 1988 film Curse of Snakes Valley, hailed as the Soviet Indiana Jones. I haven't had the pleasure of checking this one out yet, but they had me at "Soviet Indiana Jones."
Two other films screening, which I haven't had a chance to check out yet (but fully plan to in the near future), are Jonas Matzow Gulbrandsen's dark Scandinavian fairytale Valley of Shadows and Jenn Wexler's The Ranger. The Ranger is set to be the closing-night film and looks completely badass, so be sure to mark it on your watchlist asap.
Finally, there will be a special presentation of the first three episodes of AMC's new show The Terror. Based on the novel by Dan Simmons, the show follows the tragic and horrific journey of a group of explorers setting out to find the Northwest Passage in the mid-1800s. It's a bit slow going at first, but it definitely got its hooks in you after a few watches and is definitely one to check out at the festival April 1st or on TV when it premieres April 2nd.
Being a fledgling festival, I'm pretty blown away with the quality lineup that What The Fest!? is offering this year, and if you're a genre buff like me, I would highly recommend picking up some tickets before they sell out.
If you check out the full schedule on the website, you'll find that each screening is going to feature lots of special bonus fun as well, including Q&As, shorts and speakers. If you attend, let us know in the comments what your favorites were!