Zombies and surreal visions dominated this year's Tribeca Film Festival midnight lineup, with five genre titles exploring sleep deprivation, the undead in the Outback and the forest, suicide tubs, and a strange and murderous game of doctor.
Although this year's festival overall felt a bit lackluster, there are a few midnight titles to keep and eye on, so take a look at my brief thoughts on each one below with links to full reviews when available.  
Seven Stages to Achieve Eternal Bliss By Passing Through the Gateway Chosen By the Holy Storsh by Vivieno Caldinelli
A ridiculous title for a ridiculous movie, this dark comedy centers on a young couple who find a killer deal on an apartment in L.A., only to learn that the reason behind the great price is due to their bathtub, which happens to be the desired spot for suicide cult members to murder themselves. With Taika Waititi playing the leader, Storsh, along with a hefty cast of great comedic actors, there's a lot of talent at play, but much of the humor falls flat. There are laughs to be had, though, especially with Dan Harmon playing the detective in charge of investigating the suicides. Seven Stages does have the trappings of a cult film, but it didn't quite stick the landing for me. – Full Review
Braid by Mitzi Peirone
In this surreal, violent, psychological horror film, two drug dealers are forced to go back to their rich-but-mentally disturbed childhood friend's home in order to rob her, but they get way more than they bargained for. With some stellar cinematography and production design, this trippy, disturbingly wicked tale goes from weird to batshit crazy in the best ways possible. A highlight of the program, this is definitely one to keep an eye out for. – Full Review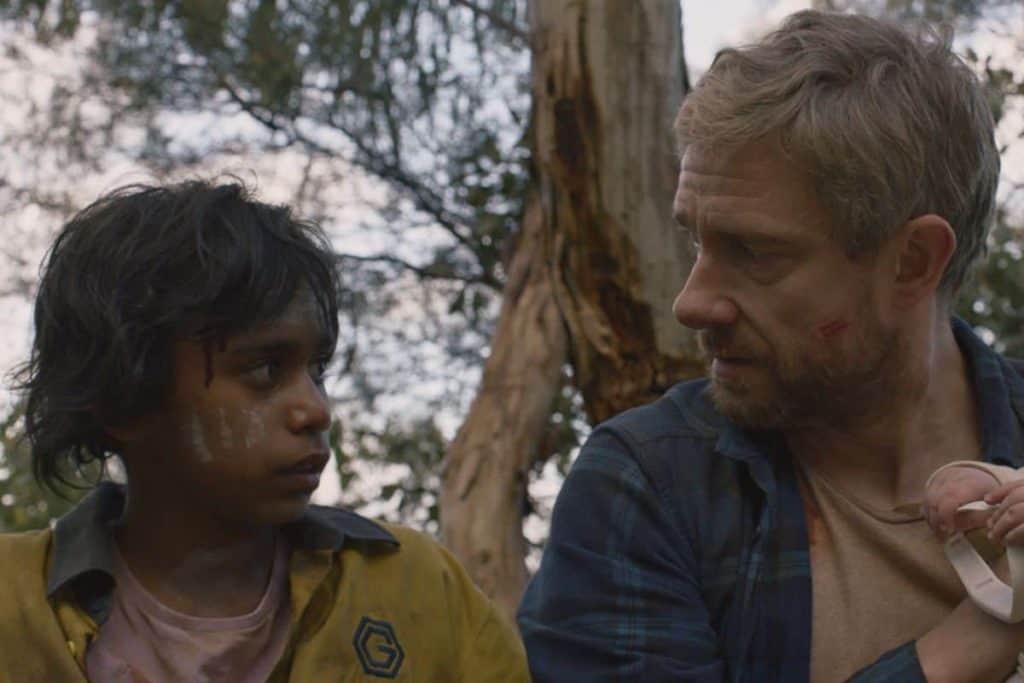 Cargo by Ben Howling and Yolanda Ramke
Cargo stars Martin Freeman as husband and father struggling to keep his family safe in the Australian Outback following a zombie apocalypse. Packing more emotional heft than initially expected, this horror-thriller circumvents the stale zombie story by telling a gripping story and keeping focus on Freeman's character, Andy, and his unwavering dedication to the survival of his family. Andy befriends a young, resourceful aboriginal girl on a journey of her own who helps him along the way, resulting in a touching friendship that almost left me in tears by the end. Netflix will be releasing Cargo on May 18th, so be sure to give that one a look. – Full Review
You Shall Not Sleep by Gustavo Hernandez
In this supernatural horror flick from Argentina, Bianca (Eva De Dominici), a young actress, is hired to be part of the latest performance art piece from a renowned artist known for her studies in human extremes – this time revisiting a subject she previously explored: sleep deprivation. Bianca, along with several others, is housed in an abandoned asylum and tasked with staying up for 108 hours straight to see what side effects the sleep deprivation will cause. After several days awake, Bianca begins having terrifying hallucinations, which may infer that bigger, more nefarious things are afoot than a simple art piece.
Starting off with a terribly interesting premise, You Shall Not Sleep begins losing steam near the end of the second act and never fully recovers before nearly completely falling apart in the finale. For those that have an aversion to jump scares, you may want to skip this one, as it's absolutely loaded with them, mostly cheap and unearned. Still, the performances are solid and the atmosphere is there; it just comes off the rails by the end.
The Dark by Justin P. Lange
Two abused teens – one an undead ghoul, the other blinded by his abuser – hide out in the woods from the authorities while their relationship with one another heals them both. While the momentum falters a bit around the halfway point, this moody horror piece is bolstered by a compelling narrative and some fine sound design and makeup work. – Full Review